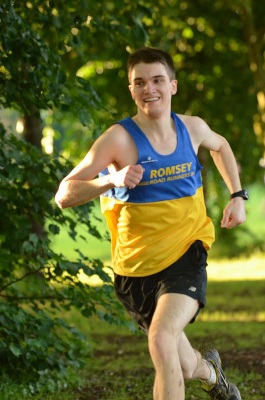 Welcome to my site, I am Neil Jennings, 25 years old, enthusiastic web developer and keen runner.
I studied Computer Science and Mathematics at Cardiff Uni and currently work as a web developer for Web Feet. It's an interesting job, working with a several different PHP systems and frameworks as well as writing complex scripts to perform bespoke SEO tasks.
When I first got into web development a few years ago, I was playing a text based game on the web and the owner needed some help. At this stage the only programming I knew was a little Visual Basic, but I offered my services and quickly picked things up, as well as earning a nice bit of money.
As you may have noticed, I enjoy running (see photo, right). I am part of a local club, Romsey Road Runners, and have recently been participating in a series of local cross-country races, the RR10's.
One of the many benefits of running is stocking up on food afterwards. I am a avid baker, my cakes may not always look top notch, but they do taste pretty epic. Carrot cake's my speciality at the moment.
I'm also a cycling fan as well, although I don't do much cycling myself I always follow the major races on tv.